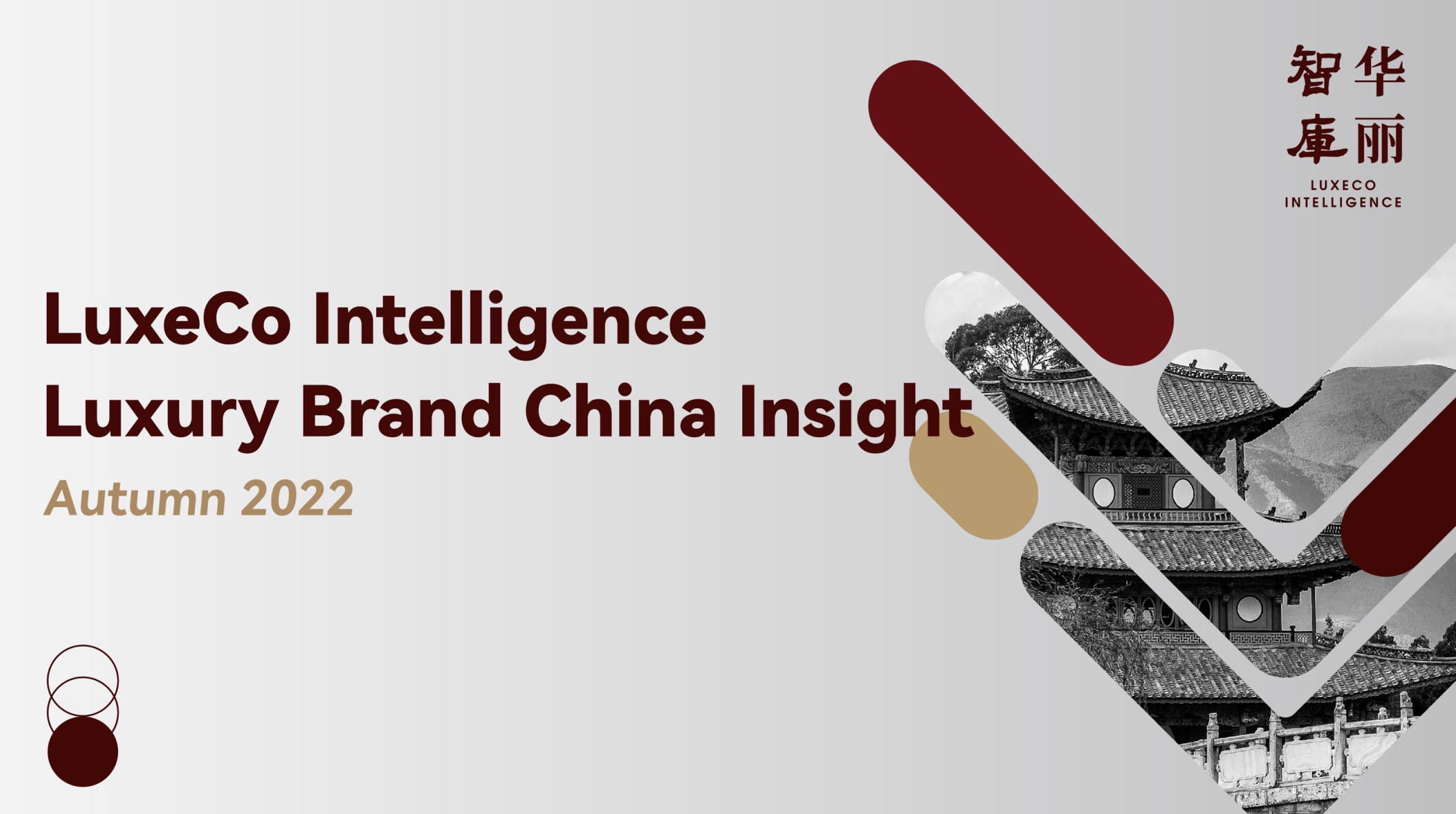 Based on the " Luxury Brand Database " built by Luxe.Co for a long time , we launched the biweekly report on luxury brands in China for the first time in May 2020 , focusing on the latest developments of global luxury brands in China and providing timely and comprehensive reference for executives and professionals in the luxury industry. At the beginning of 2022, LuxeCO Intelligence released " Luxury Brand China Power Ranking ( 2021 )" for the first time ——This is the first comprehensive and systematic "Dashboard" in the luxury industry reflecting luxury brands' investment and activities in Chinese market. It reflects our "ambition" to empower global luxury brands with high-standard information services and our "confidence " in the long – term optimism of 's luxury market .
In 2022 , LuxeCO Intelligence continues to carry out systematic tracking and research on 120 luxury brands. During the period from January to August, our database has collected 553 updates on marketing and channel expansion of luxury brands in the Chinese market (equivalent to an average of nearly 70 updates per month worthy of industry attention and reference). Based on this, we have sorted out and summarized the important trends and practical cases of luxury brands in China this year, and exclusively released the report "  Luxury Brand China Insight ( 2022 Autumn Edition) by LuxeCO Intelligence" , hoping to reveal the latest trends in industry development. Especially during this special period of continuous epidemics, it helps professionals in luxury field to understand how luxury brands maintain business vitality and connect more actively and closely with chinese consumers.
In January 2023, we will release the " 2022 Luxury Brand China Power Ranking", so stay tuned!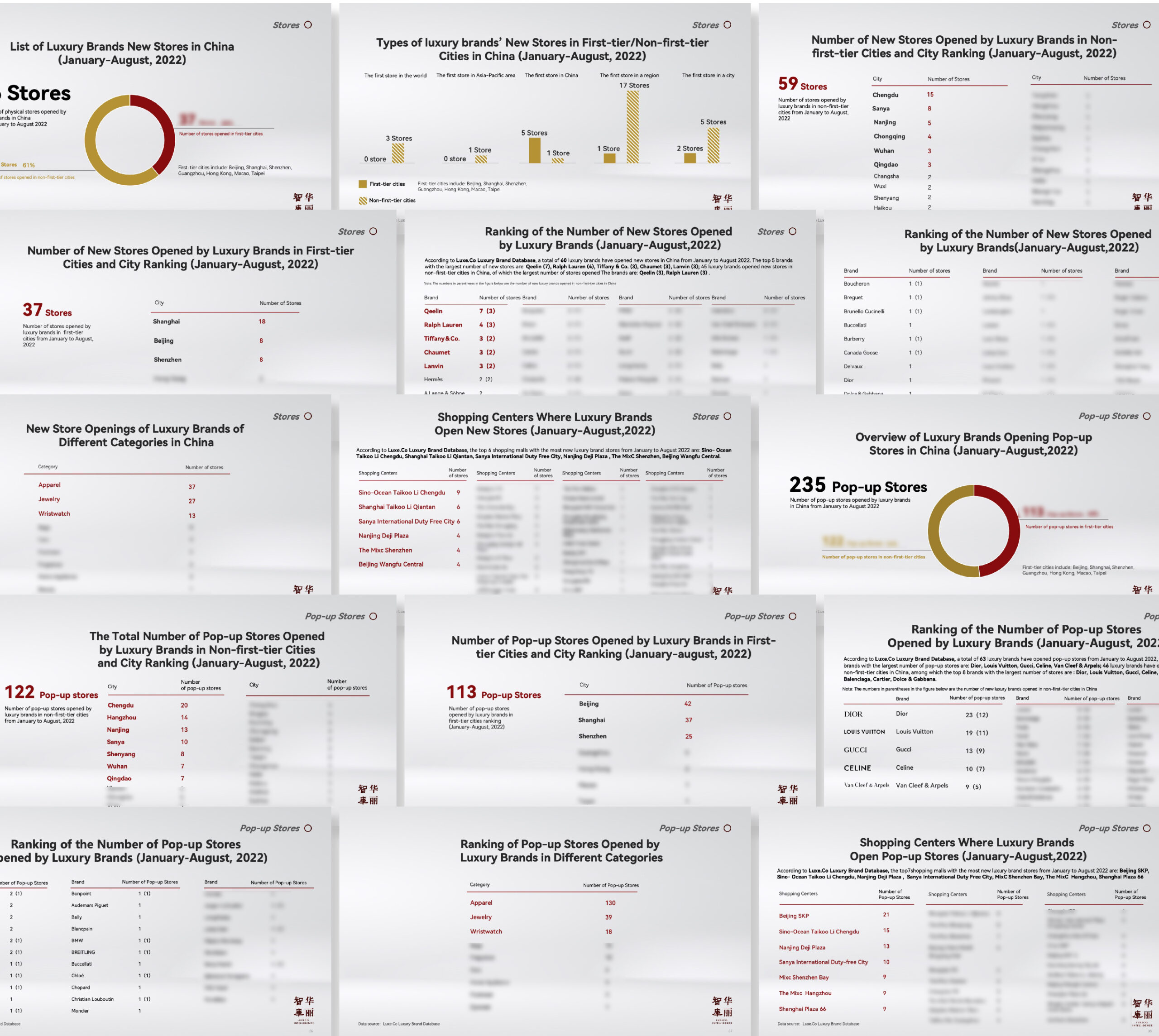 The 60 page long "Luxury Brand China Insight (2022 Autumn Edition)" has revealed two major trends:
How can luxury brands deep dive into the lower tier city?
Deeply cultivating and sinking the market has become an important development strategy for luxury brands in Chinese market. According to statistics from Luxe.Co's luxury brand database, luxury brands opened a total of 96 new stores in China from January to August this year, of which 59 were opened in non-first-tier cities , accounting for 61% of the total number of stores opened .
In addition to opening stores, luxury brands are also actively holding important exhibitions and other activities in non-first-tier cities in China to further refine their operations and narrow the physical and psychological distance with local consumers.
How to localize its marketing strategy?
In the vast land of China, due to the existing sense of physical space distance, Chinese people feel a strong sense of belonging to their hometown or the place where they struggle in adulthood.
Under the influence of epidemic control, people's living radius has become smaller than before, and their lifestyles and consumption habits have also changed. One of these changes is an increased focus on "nearby", especially one's own city. The dynamics surrounding the city's commercial prosperity, especially luxury brands, have become one of people's focus of the city.
In this context, we see that more and more luxury brands are creating content and experience scenarios more attentively according to the characteristics and consumption habits of different cities in China.
According to Luxe.Co Luxury Brand Database, from January to August this year, Qingdao, Chengdu, Beijing, Shanghai, Guangzhou, Wuhan, Changsha, Nanjing, Guizhou, Zhengzhou, Hainan, and Shangri-La of Yunnan became the inspiration for the localization of luxury brands, reflecting on the brand's fashion shows, exhibitions, stores, products and promotional content and other aspects.
If you need help, please add WeChat ID: hualitea
---
About Luxe.CO
Since its inception in 2013, Luxe.CO has built a multi-channel media matrix, through Chinese & English website ( luxe.co ; en.luxe.co), Android and IOS app (华丽志) as well as social media accounts (WeChat & WeiBo) and major 3rd party media platforms.
Luxe.CO has been firmly established as the most trustworthy media brand and go-to source to acquire global fashion business and financial news, to understand global fashion industry development, to connect fashion industry network and resources, and, to help companies and brands communicate with the most important audiences in the industry.
For millions of leaders, entrepreneurs, investors, professionals, opinion leaders, Luxe.CO provides the latest and well-curated news, in-depth research and analysis on brand operation、venture investment、M&A,industry research papers etc.
From 2015 onwards, Luxe.CO has been hosting "Luxe.CO Global Fashion Investment Forum" annually in China and abroad, as well as a number of closed-door seminars & open forums.
Leveraging on our profound industry knowledge,professional research team,extensive industry and finance network, we also provide strategic consulting、research and PR services to global brands who are entering China or hope to accelerate growth in this most promising market, helping them to fine-tune China strategy and identify best local partners.
About LuxeCO Intelligence
Based in China, LuxeCO Intelligence is a unique platform offering research and consulting services. It continues to present visionary insights on consumer, industrial research and strategic consultation with an extensive global vision from an industrial point of view.
LuxeCO Intelligence offers optimum reference for decision-making for industrial leaders on luxury goods, fashion, beauty and lifestyle through structural commercial information, systematic research on segment, efficient first-hand survey, abundant cases and visionary strategic thinking based on our industrial network under constant construction, data intelligence and industrial know-hows.
Contact LuxeCO Intelligence, please write to e.mail :  lci@luxe.co