Luxury Brands in China —— A Dashboard by LuxeCO Intelligence
&
Luxury Brands China Power Ranking 2021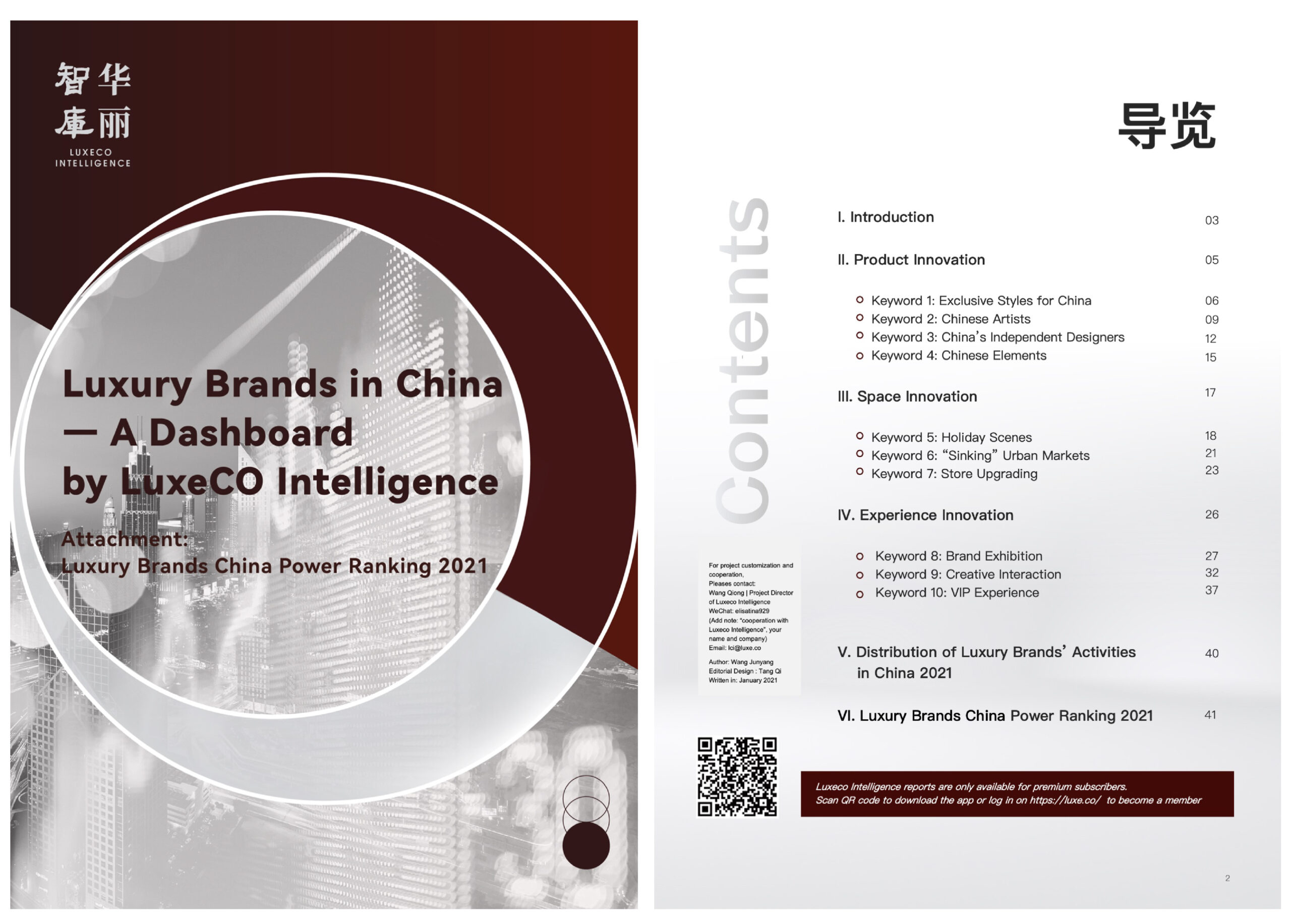 Click here to download the report
Over the past decade, LuxeCO Intelligence has kept itself abreast of China luxury market through tracking, reporting, and studying day-to-day business activities of over 100 luxury brands. Meanwhile, we are gaining further insights of the industry through frequent communication with important practitioners and high-end consumers, many of whom are loyal readers of our highly regarded digital business media – Luxe.CO.
In May 2020, LuxeCO Intelligence published its first biweekly report on luxury brands in China to provide timely and comprehensive reference for executives and professionals in luxury field.
In addition to the biweekly reports, LuxeCO Intelligence has published a series of research papers on various subjects related to the development of luxury industry, such as Chinese luxury consumption trends, digitized fashion stores, art collaborations and investment activities etc., in order to provide our users with structured and in-depth industry knowledge and to stimulate more innovative efforts in the highly dynamic and challenging market of China.
Before 2020, Chinese consumers have already contributed to over 1/3 of the global luxury market, but the majority of which were spent overseas. Due to the impact of COVID-19, over the past two years, more and more luxury spending has flown back to domestic market. According to the latest study by Bain consulting, China is now taking up more than 1/5 of the global luxury market and is expected to become the largest in 2025.
In addition to the impressive sales figures created by Chinese consumers, we believe that,the "vitality" injected into luxury brands by China market deserves more attention and further study!
The year of 2021 has seen many ups and downs, and the future remains uncertain. However, in China, the growth strategy of major luxury brands has never been compromised and more and more newcomers are stepping up. In the face of both opportunities and challenges, the "metabolism" of luxury brands are accelerating. The enthusiastic consumers and highly vibrant environment in China are undoubtedly supplying essential "nutrition" and "energy" to such "metabolism".
By studying the 784 entries recorded in the biweekly reports of 2021, which cover both the marketing and retail expansion activities of 110 global luxury brands in China market, LuxeCO Intelligence has constructed an unprecedent "dashboard" to reflect the "vitality" (the degree of engagement and level of activity) of luxury brands in China in a comprehensive and systematic way.
Subsequently, "The Power Rankings for Luxury Brands in China" is produced based on the outcome of this dashboard, taking into account both the density and the weight of the brand's activities. Each subcategory of activity is assigned with a certain weight according to its magnitude and influence as decided by the board of LuxeCO Intelligence.
In the process of evaluation, we have extracted a handful of outstanding brand cases and summarized 10 major findings about China luxury market (refer to the full report for more details).
We would like to use two keywords to highlight our observations about the present and the future of luxury business in China:
"Engage"
In spite of the pandemic, in 2021, we have witnessed deeper engagement of global luxury brands in China.  The brands have put more efforts to better understand Chinese culture and business environment.
They strived to work with local creative talents and entrepreneurs and to expand communication and distribution channels to convey their brand story and messages. More importantly, such efforts were made not just sporadically but more systematically and strategically.
We also noticed that, most global luxury brands are handling communication with Chinese consumers in a more delicate way and forming a closer tie with them.
For the year of 2022 and beyond, we foresee a growing trend of "Confluence":
"Confluence"
We believe that the fast-growing China market and consumer appetite will continue to provide "nutrition" and "energy" to the evolution of global luxury brands.
Meanwhile, these luxury brands are very likely to enhance their localization strategies. In particular, we shall see more efforts of localization in creative fields.
In the long run, we expect positive forces from all fields of luxury industry to converge and thrive in China market.
By studying best industry practices and latest market trends, we would like to help key players of China luxury market to contemplate on some key challenges,such as:
How can one avoid mediocrity and homogeneity in the highly competitive China market?
In what fields can the "metabolism" be accelerated by taking advantage of the "energy" channeled by Chinese consumers?
How to learn from "China Practice" and benefit the brand's business elsewhere in the world?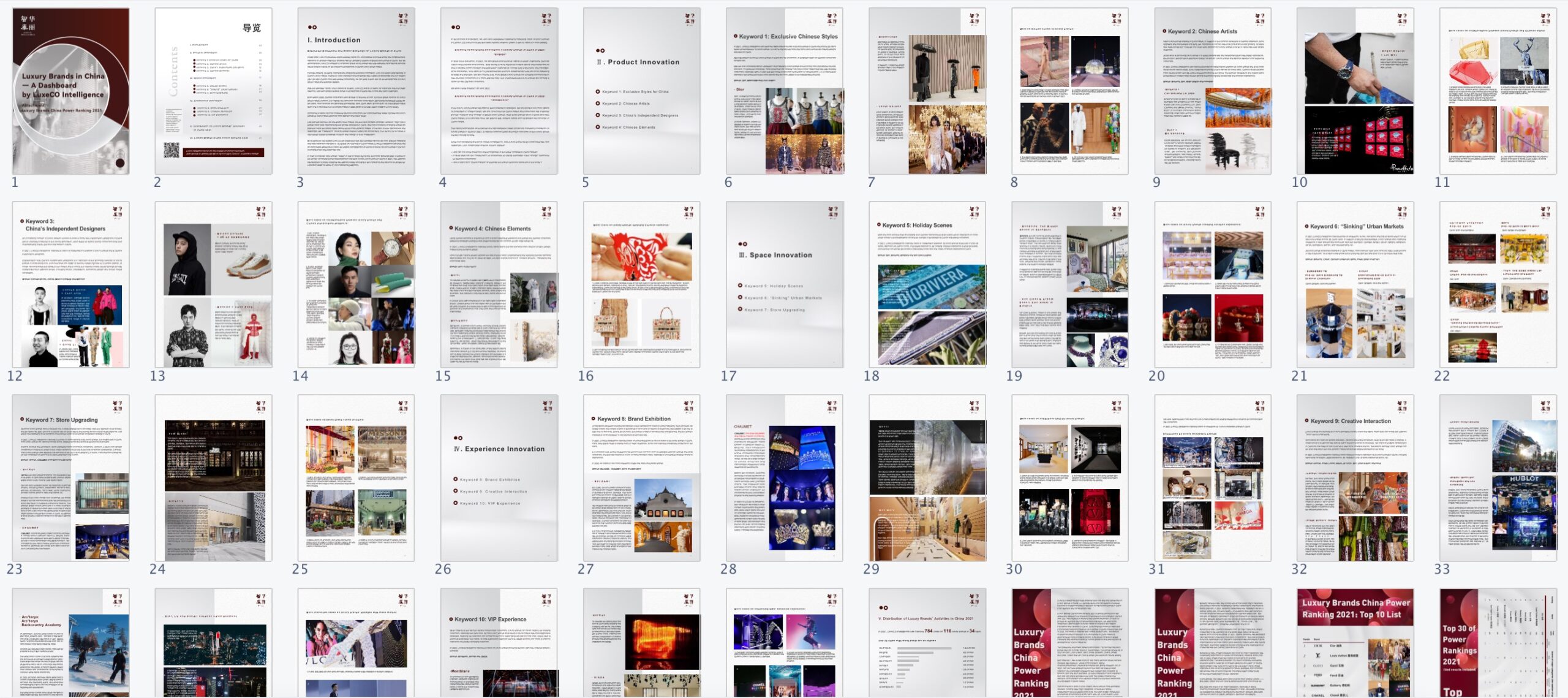 Click here to download the report 
---
– About Luxe.CO
Since its inception in 2013, Luxe.Co has built a multi-channel media matrix, through Chinese & English website ( luxe.co ; en.luxe.co), Android and IOS app (华丽志) as well as social media accounts (WeChat & WeiBo) and major 3rd party media platforms.
Luxe.CO has been firmly established as the most trustworthy media brand and go-to source to acquire global fashion business and financial news, to understand global fashion industry development, to connect fashion industry network and resources, and, to help companies and brands communicate with the most important audiences in the industry.
For millions of leaders, entrepreneurs, investors, professionals, opinion leaders, Luxe.CO provides the latest and well-curated news, in-depth research and analysis on brand operation、venture investment、M&A,industry research papers etc.
From 2015 onwards, Luxe.co has been hosting "Luxe.Co Global Fashion Investment Forum" annually in China and abroad, as well as a number of closed-door seminars & open forums.
Leveraging on our profound industry knowledge,professional research team,extensive industry and finance network, we also provide strategic consulting、research and PR services to global brands who are entering China or hope to accelerate growth in this most promising market, helping them to fine-tune China strategy and identify best local partners.
– About LuxeCo Intelligence
LUXECO Intelligence is a research and strategy consulting service provider , focusing on luxury、fashion、beauty and lifestyle business.
We are capable to integrate China angle、global vision and broad industry perspective to provide forward-looking consumer insights, industry research, and strategic advisory services.
The unique strength of LUXECO Intelligence lies in the strong industry network, data intelligence and knowledge system that we continue to build, supported by our efficient first-hand data gathering and survey channels and tools.