en.luxe.co 正式上线!6月23日晚,华丽志英文版全球发布酒会在上海洛克·外滩源举办,同时向全球读者首次发布了"华丽志 2017 年度中国时尚消费调查报告" (Luxury and Fashion in the Eyes of China's Millennials — Survey 2017 by Luxe.Co)。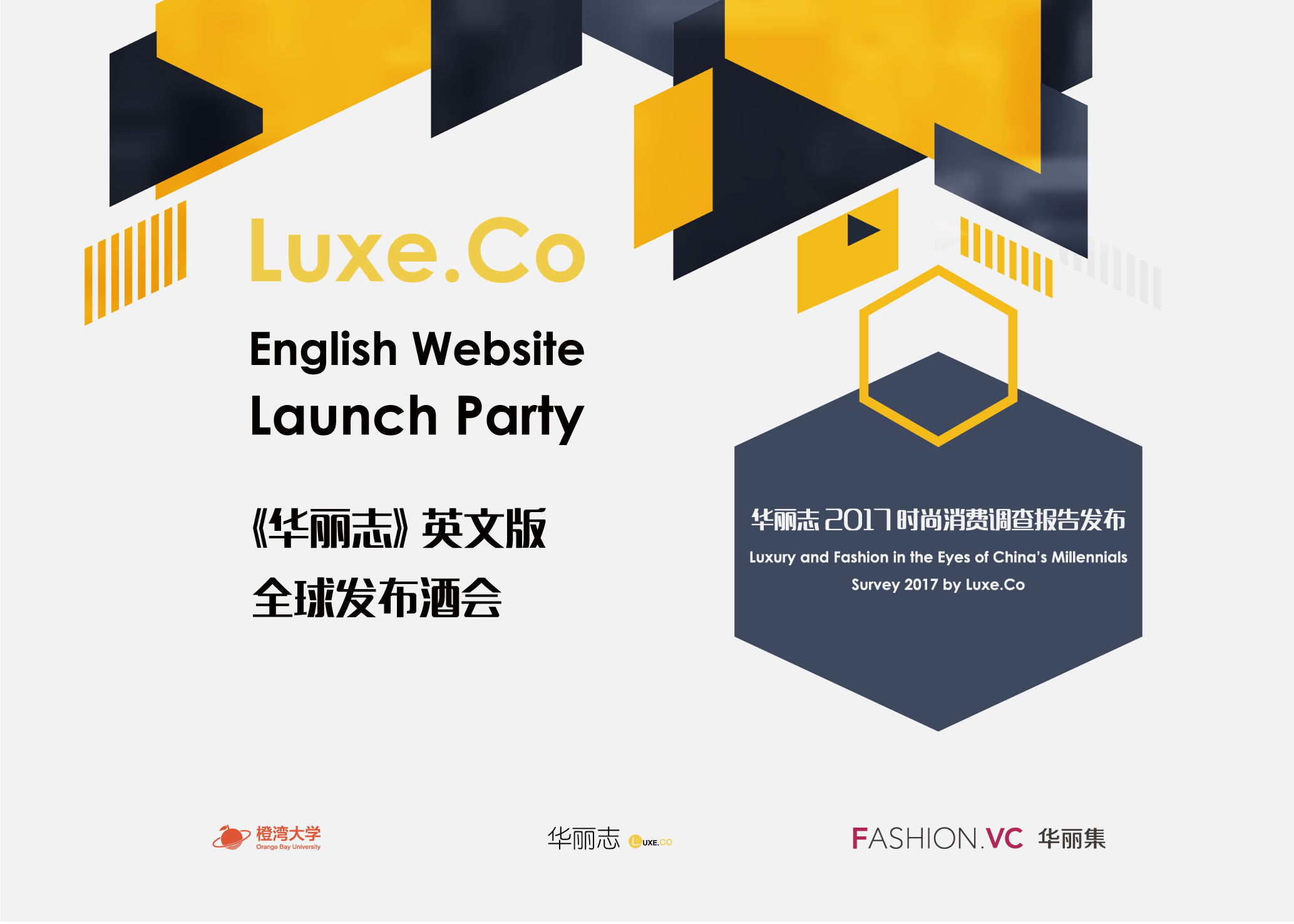 自 2013 年5月正式成立以来,《华丽志》始终以全球视野和专业态度,面向数百万关注奢侈品、时尚和生活方式产业的中国精英读者,源源不断地提供全球最及时、全面的品牌经营管理、创业投资、兼并收购、商业模式和科技创新等方面的权威资讯,还精心打造了一个内涵丰富的在线品牌知识库、行业研究资料库和时尚金融数据库。
随着越来越多的中国时尚企业和消费投资机构走向世界,越来越多的国际品牌进入中国市场,《华丽志》决定适时推出英文网站 en.luxe.co,以便更好地把中国时尚产业和资本的声音传递到全世界,同时也为连接全球时尚品牌和行业机构建设一个更加顺畅的沟通平台。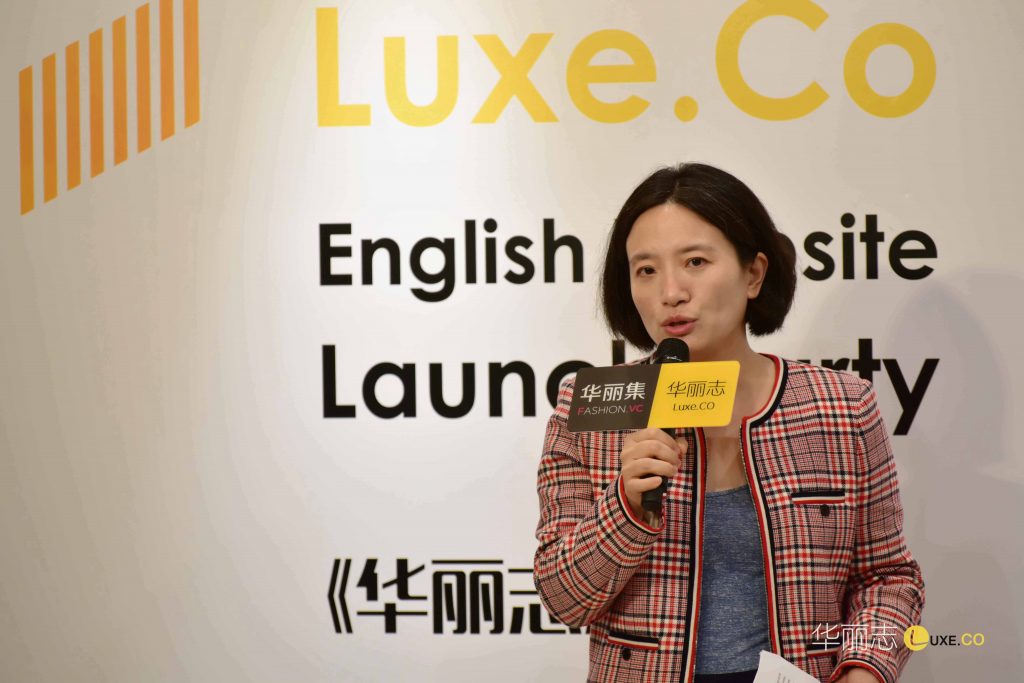 在洛克·外滩源酒会现场,《华丽志》创始人、橙湾大学校长余燕(Alicia Yan Yu)女士(上图)向在座各国嘉宾友人用中英文发表了主题演讲,介绍《华丽志》的发展历程,阐释了创办英文网站的初衷与愿景。以下为英文演讲的全文:
"Ladies and Gentlemen, welcome to the launch party for the English website of Luxe.Co (or Hua Li Zhi).
Luxe.Co is a very special kind of business media like never before, because we regard the business of luxury, fashion and lifestyle as a whole, and aspire to connect the three worlds of fashion, finance and technology.
Looking around us:
Global capital flow and technological innovations are increasingly driving the betterment and expansion of consumer product and service sectors.
More and more, we demonstrate our social awareness and personal value through what we wear, eat and use and how we spend our leisure time, and spend more to experience than to possess.
In our daily consumption, we tend to mix and match the exclusive and the mass, while creativity and craftsmanship are playing more important parts in our choices of products.
Fashion and Technology are becoming more and more relevant to each other, and crossover is gaining popularity between art, fashion and living …
As strongly as we sense these refreshing trends in our daily lives, the global market and industry are also being reshaped along the way.
At Luxe.Co, we consider it our primary tasks to capture the data, the facts and the excitements of such movements as comprehensive as possible, and bring them in the most timely and professional manner to the related entrepreneurs, executives, investors and other stakeholders.
Although Luxe.Co is often labelled as "Fashion Business Media", our coverage actually extends to the sectors of Luxury, Fashion, Beauty, Wellness, Fitness, Home, Travel, Food and Art, all centered around the subjects concerned most by the new age consumers, but with a very dedicated business focus.
With 99% of the contents produced in-house, we consistently deliver exclusive interviews, research and reports, while drawing inspirations from around the world.
The articles on our Chinese website (close to 8000 published so far) have covered over 1000 global premium brands, of which nearly half of them gained first ever exposure to the business readers in China through our report.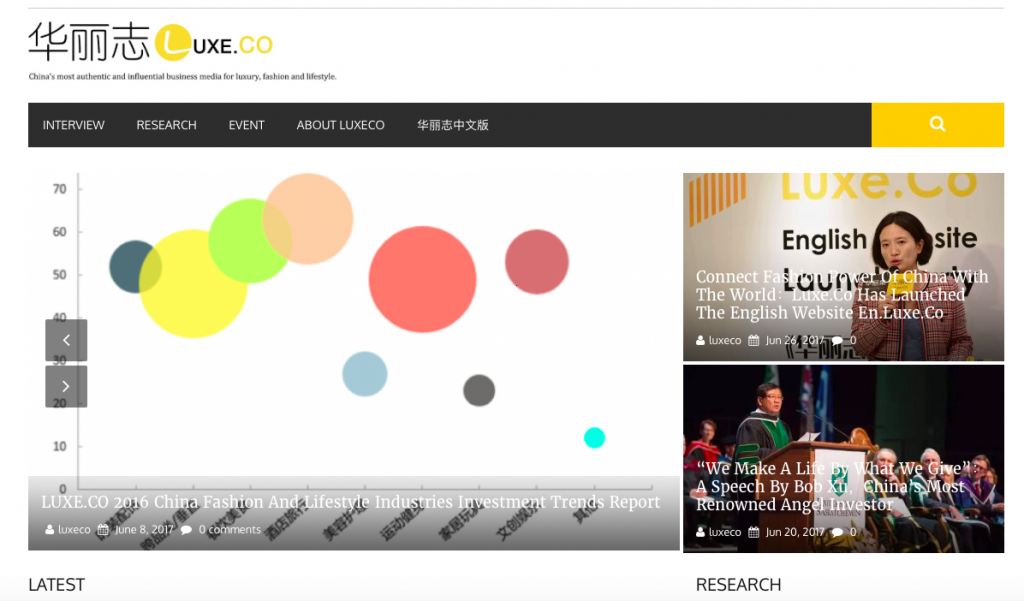 (上图:华丽志英文版网站 en.luxe.co 首页)
We connect and inspire the best people in fashion, finance and technology, not just through our premium content, but also via a string of quality offline activities, such as the annual Luxe.Co Global Fashion Investment Forum, Fashion.VC InnoBrand Competition, as well as various seminars and roadshows for startups.
(Link on en.luxe.co: InnoBrand 2017 Competition by Fashion.VC)
Over the past four years, we have been consistently tracking the development of hundreds of interesting topics as VC investment, Merger & Acquisitions, Store Innovation, Travel Retail, Fashion Week, Fashion Laws, Yoga, Premium coffee,, Healthy snacks, New materials, Supply Chain Improvement, Social responsibility and the application of VR, AR and 3D technology in Fashion…  We also arrange topics by certain countries as France, Italy, Japan, Switzerland …
Most recently we have launched Orange Bay University, a very unique fashion business school combined with startup college. Leveraging on our extensive knowledge base and industry network, we aim to provide the world-class business education to the future leaders in the area of luxury, fashion and lifestyle. Class 2017 has kicked off one month ago in Beijing, and continued in Shanghai this weekend.
Neither of fashion, technology and capital has any boundary, so from the very beginning, Luxe.Co is positioned from a truly global perspective, and almost all our team members are bi-lingual or tri-lingual.
In early 2016, we produced Luxe.Co's very own Top 100 list for Global Premium Brands with proprietary methodology — taking into consideration of the sales data in China, mentions and searches on Chinese social media platforms and search engines, together with our proprietary survey of mid-high end Chinese consumers. This ranking results was published in both Chinese and English, the latter or which was captured and quoted by the equity research team of Goldman Sachs in a report of September 2016.
(Link on en.luxe.co: Top 100 list for Global Premium Brands)
As Luxe.Co enters the fifth year, we believe now is the right time to launch a full English website, so that we could better communicate with the English speaking communities and extend our media influence beyond China.
With this new extension, we could bring our research and observations of China market, the stories and messages of Chinese entrepreneurs and investors to a much broader global audiences. Meanwhile, we would facilitate more and more brands and companies in China to venture abroad, and also help global brands and organizations to communicate with Chinese audiences in a more convenient way.
Well footed in China, the biggest and most promising consumer market in the world, where the talents, the energy and the money are most active, we believe it is only a matter of time before Luxe.Co grows from China's most authentic and influential fashion business media to the World's best.
Thank you for your continuous support and please enjoy the evening!"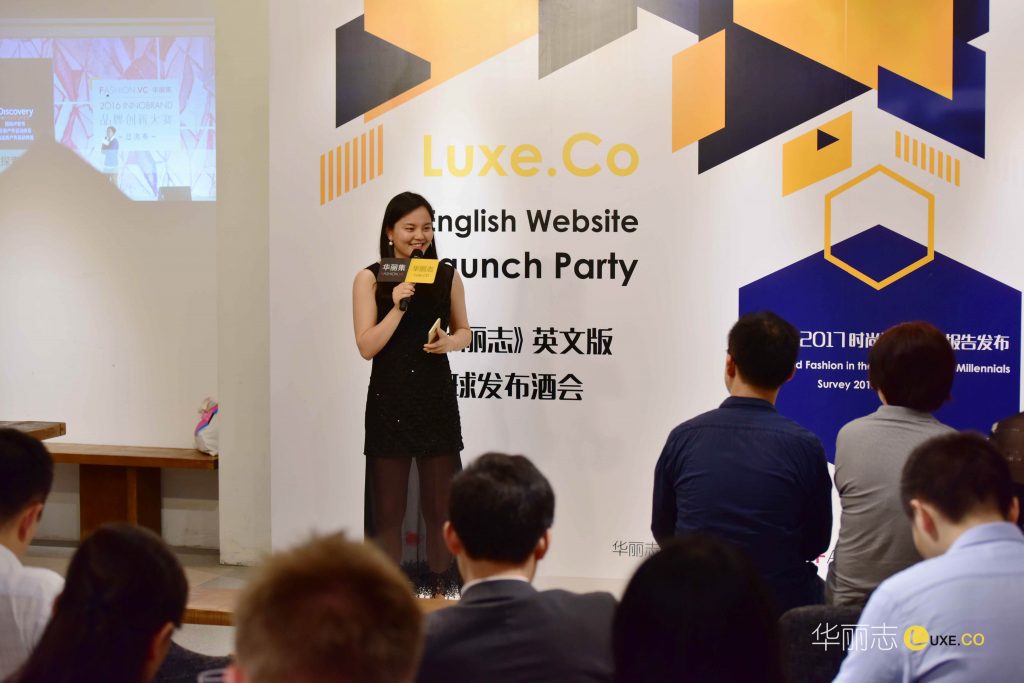 随后,《华丽志》时尚与内容总监王琼女士(上图)发布了《2017年度中国时尚消费调查报告》(点击链接查阅报告全文)。
继 2015 年底首次发布"中国时尚消费调查报告"后,《华丽志》研究团队继续通过互联网可控节点精准调查的形式,精准收集了中国一二线城市及海外年轻时尚消费者的行为习惯数据,共回收有效样本 1816 份,受访者男女比例约为 3:7。报告结果覆盖了奢侈品牌、中国设计师品牌、品牌营销、实体零售等多个时尚行业关键的细分领域,希望帮助品牌、零售商和研究机构更深入地了解中国年轻消费群体。
在此特别鸣谢法国驻华大使馆、澳大利亚驻华大使馆、法国驻上海总领事馆、意大利驻上海总领事馆、西班牙驻上海领事馆、上海时装周组委会、Hearst Media China 赫斯特媒体中国、康泰纳仕时尚设计培训中心(CONDÉ NAST CENTER OF FASHION & DESIGN)、英中贸易协会、伦敦艺术大学(UAL)、Vogue China、ELLEMEN、T Magazine China、Bottega Veneta、De Beers、日播集团、上海新天地、Selfridges、中信资本、华平投资、中国平安、光大证券、民生银行、真格基金、华人文化产业投资基金、国泰基金、友邦保险、达能集团、百雀羚集团、Inditex 集团、菲仕乐(Fissler)、美博会、百俪会、名堂、时堂、Taoray Wang、《21世纪经济报道》、《中国证券报》、腾讯时尚、网易新闻、界面、中国新闻社、华尔街见闻、投中网 China Venture 等机构和企业的到场和鼎力支持。(排名不分先后)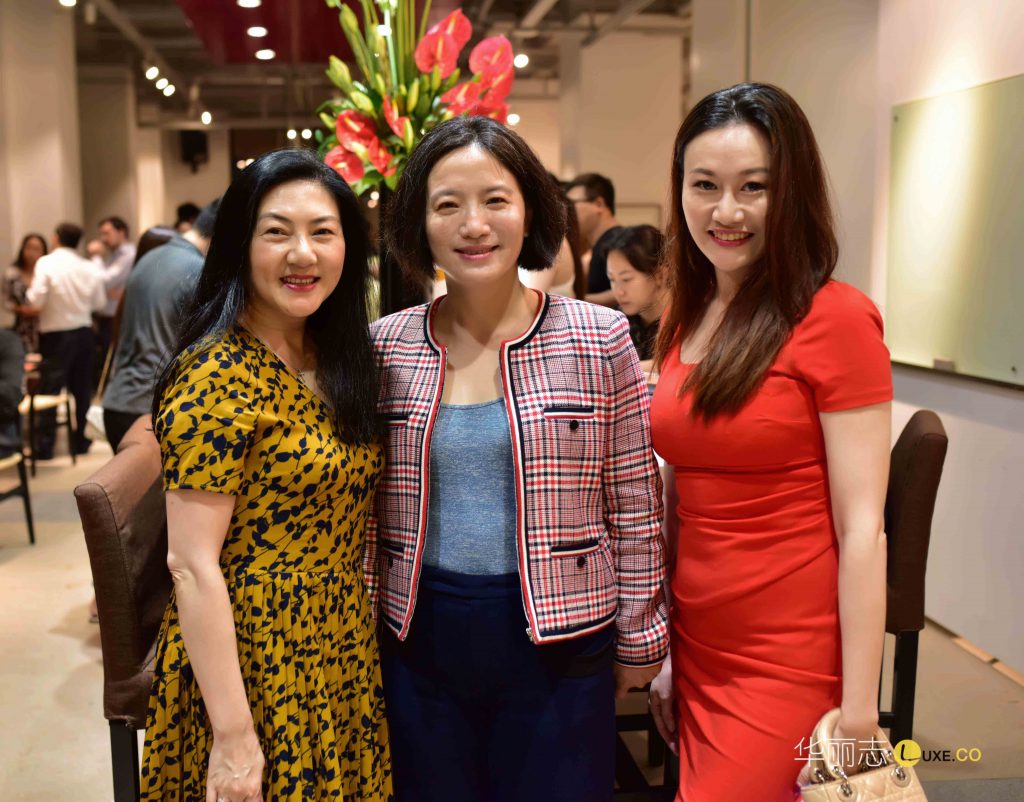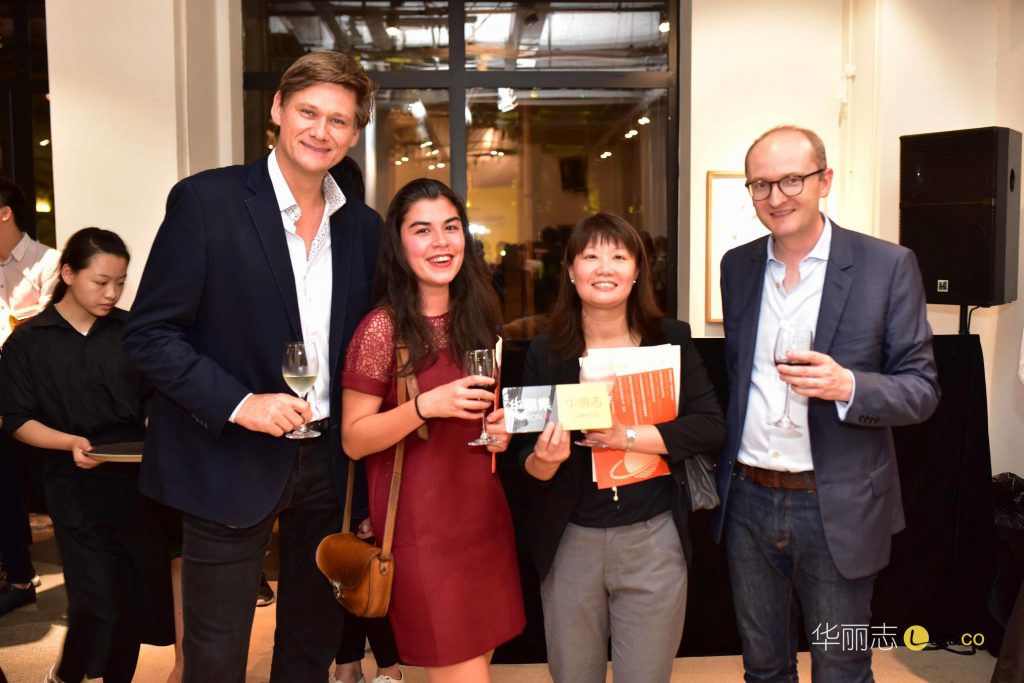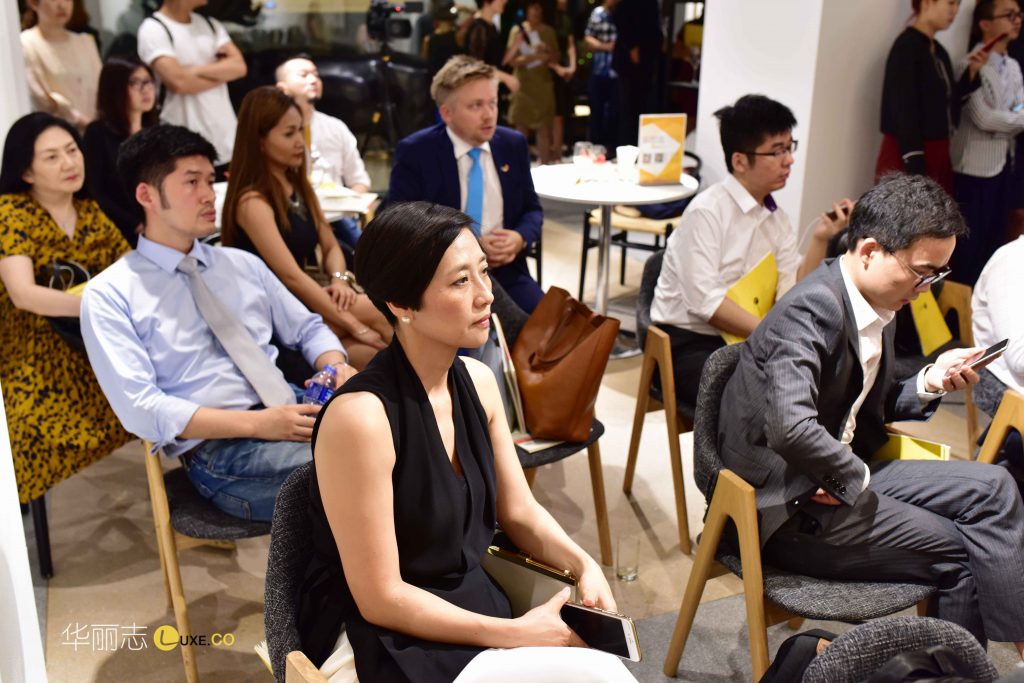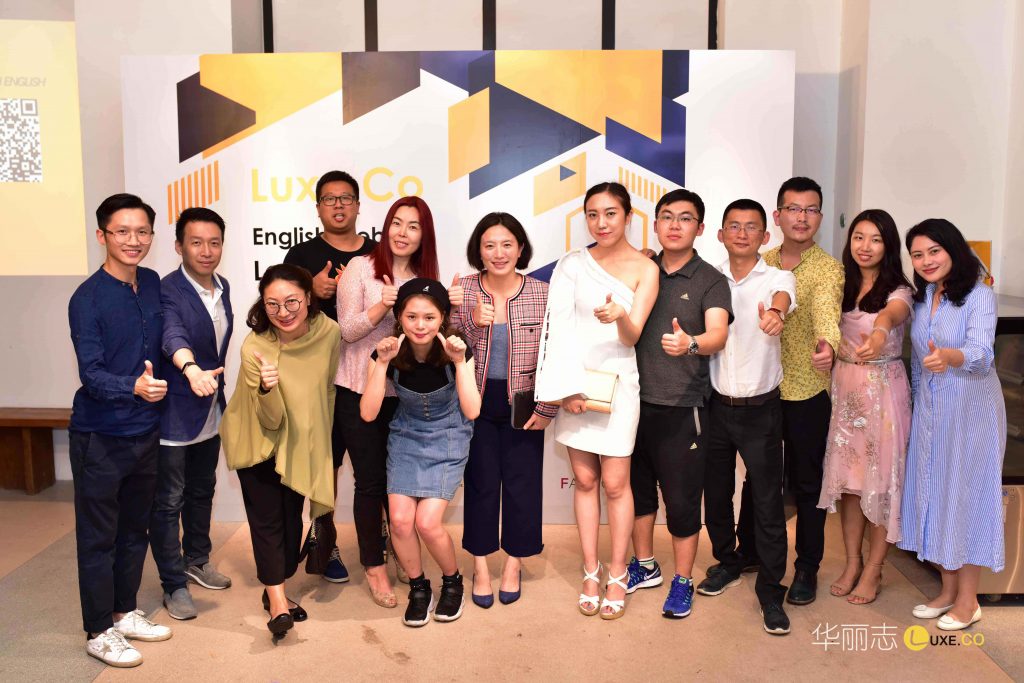 (上图:橙湾大学一期部分学员现场合影。《华丽志》在 2017 年3月创办了全球首家时尚商学院 + 创业学院:橙湾大学 Orange Bay University(点击链接了解详情)。2017 年 5 月 26 日,橙湾大学一期正式开学,第一和第二阶段的课程已经顺利在北京和上海两地完成。)