The Chinese market has provided opportunities for rapid growth and benefits for global luxury brands. Over the past two years alone, LuxeCO Intelligence, a Luxe.CO-owned research institute of the fashion industry has traced 1,510 updates on marketing and channel expansion from 118 luxury brands, which illustrates China's unquestionable strategic significance to luxury brands.
Amidst recurring outbreaks of the pandemic and the dynamic social environment and public sentiment, to solidify and further continuous growth in China, luxury brands are facing a great deal of challenges and tests such as:
How do consumers of different profiles view and purchase luxury brands?
How do brands find the right pace to expand the Chinese market by taking advantage of urban renewal and commercial complex?
How come "localization" has become an important trend that can't be ignored in the Chinese market?
What are the characteristics of the lifestyle of today's Chinese luxury consumers?
LuxeCO Intelligence issued this exclusive report on these topics of concern to the industry, 2022 Research on Luxury Market in China: Where is the physical and mental place that resonates with Chinese consumers?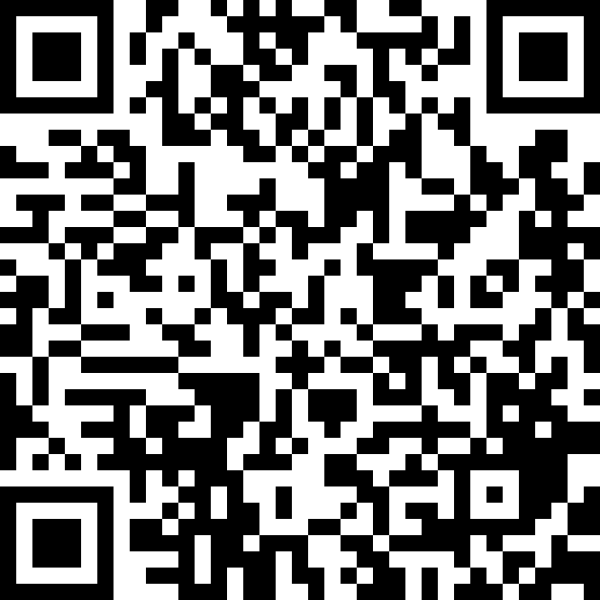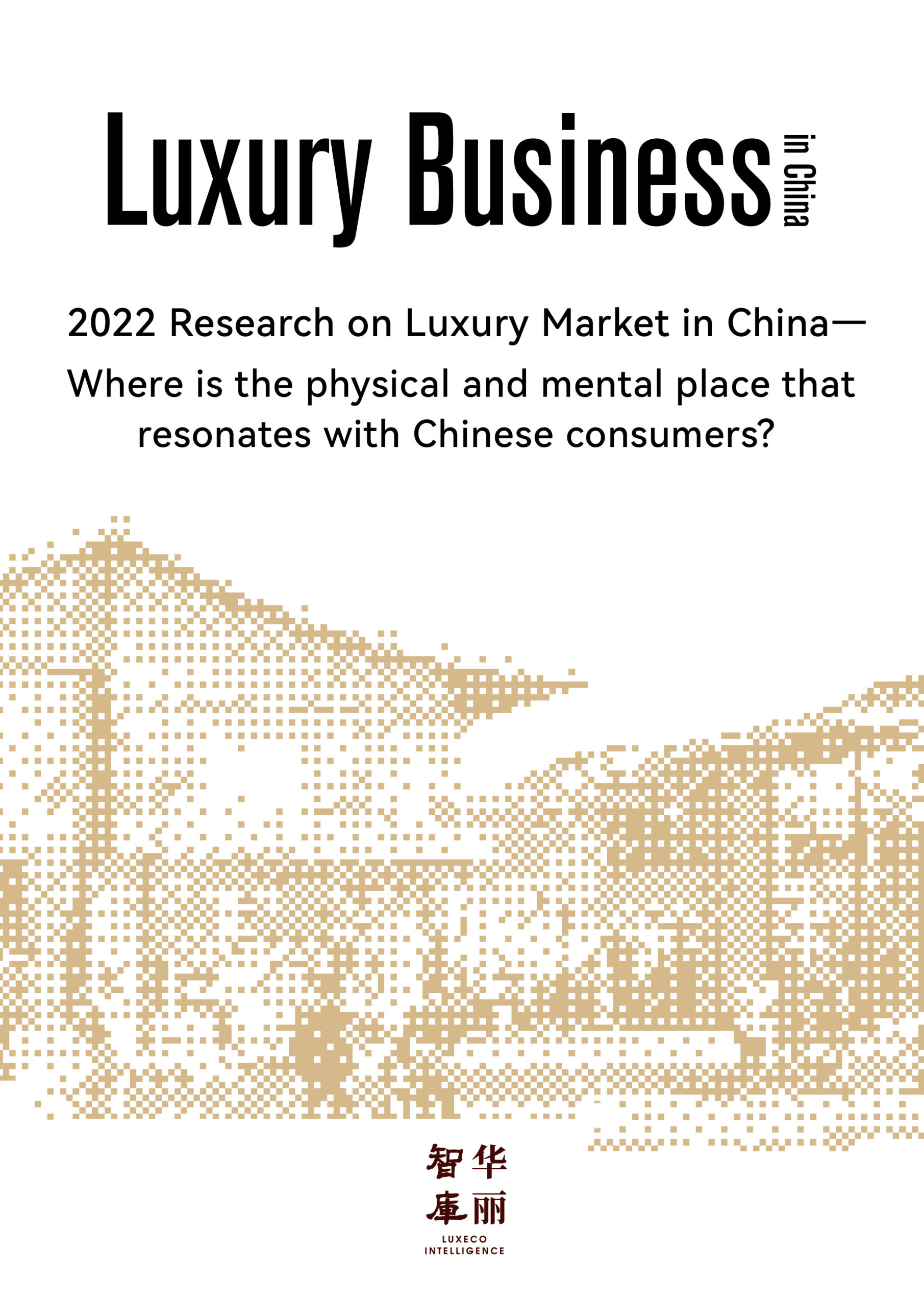 As a leading research institute of China's fashion and luxury industry, LuxeCO Intelligence has been closely tracking updates on the development of global brands in the Chinese market and communicating frequently with professionals of the industry and consumers so that we can conduct our research more and more profoundly step by step. Especially in the luxury industry, LuxeCO Intelligence has conducted surveys on mid- to high-end consumers several years in a row, launched multiple research reports and gained attention and recognition from executives of the industry through continuous tracking and research.
This report has included nearly 30 excellent cases on 25 global luxury brands based on LuxeCO Intelligence's persistent monitoring of Chinese and global luxury markets and long-term tracking of industrial update. Meanwhile, 30 Chinese luxury consumers of various profiles were invited to sit down with us in a one-on-one interview and the survey was designed based on their individual features.
In this report, we have concluded 8 noteworthy insights on luxury brands in the Chinese market in a systematic way using two criteria ——1) physical space 2)emotion and lifestyle,according to feedbacks from Chinese luxury consumer and our industrial research. We hope that this report could provide evidence, reference and inspiration to luxury brands in their employment in the Chinese luxury market in advance and in understanding the status and preference of Chinese consumer thoroughly to create more inviting scenes and surprising "localized" content.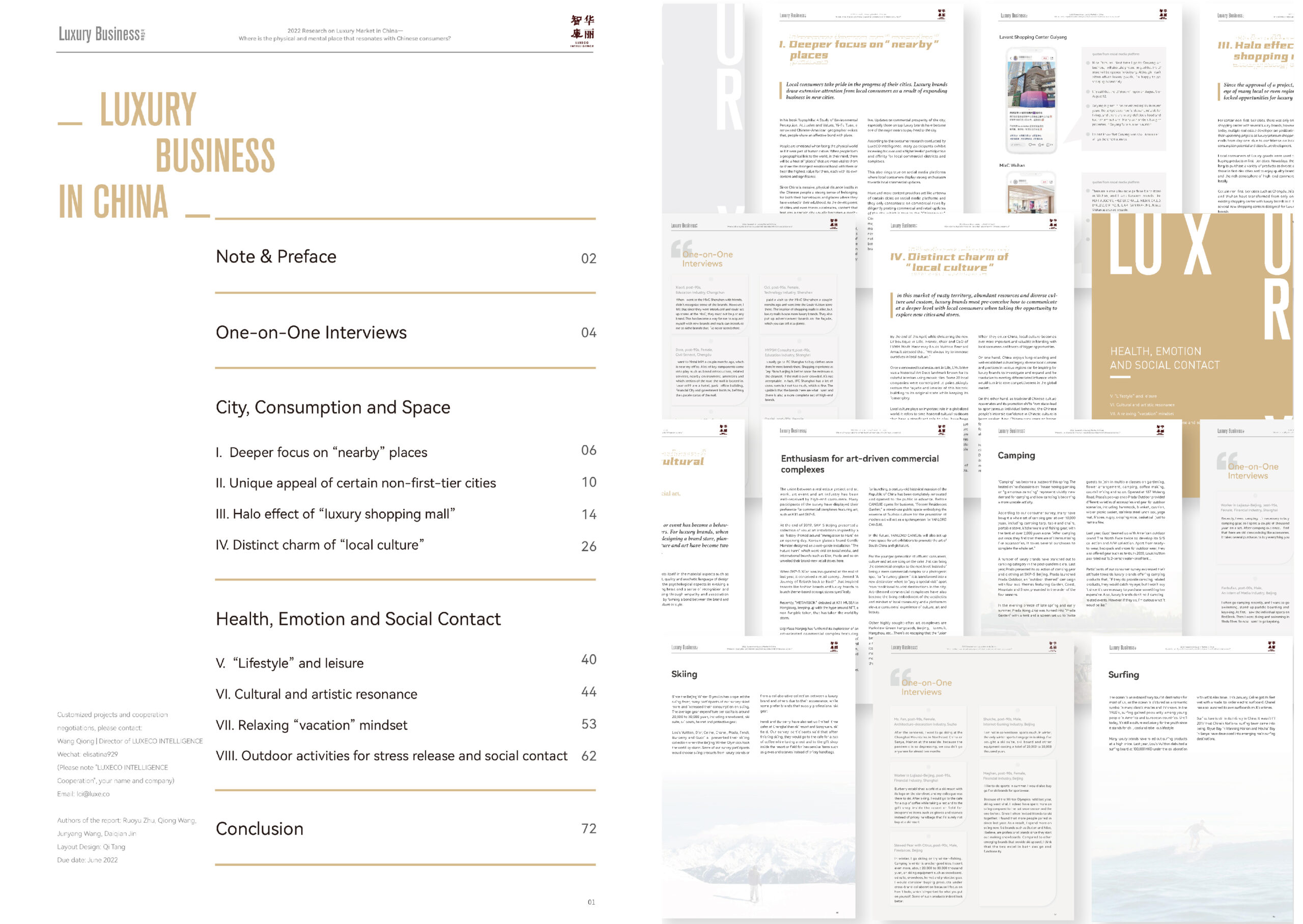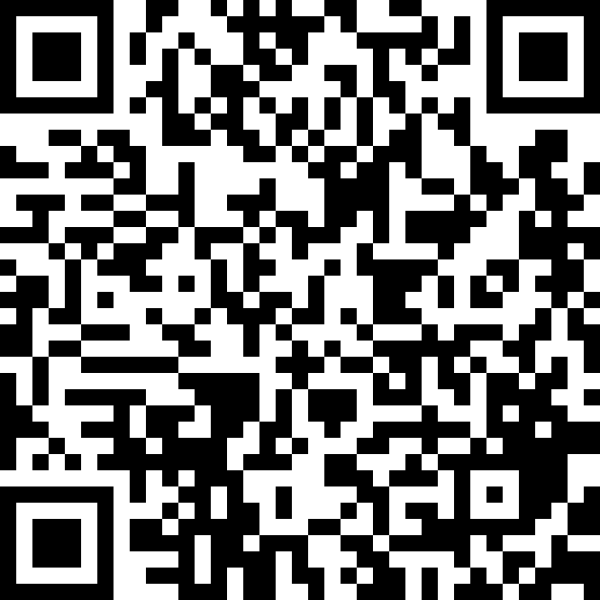 About Luxe.CO
Since its inception in 2013, Luxe.CO has built a multi-channel media matrix, through Chinese & English website ( luxe.co ; en.luxe.co), Android and IOS app (华丽志) as well as social media accounts (WeChat & WeiBo) and major 3rd party media platforms.
Luxe.CO has been firmly established as the most trustworthy media brand and go-to source to acquire global fashion business and financial news, to understand global fashion industry development, to connect fashion industry network and resources, and, to help companies and brands communicate with the most important audiences in the industry.
For millions of leaders, entrepreneurs, investors, professionals, opinion leaders, Luxe.CO provides the latest and well-curated news, in-depth research and analysis on brand operation、venture investment、M&A,industry research papers etc.
From 2015 onwards, Luxe.CO has been hosting "Luxe.CO Global Fashion Investment Forum" annually in China and abroad, as well as a number of closed-door seminars & open forums.
Leveraging on our profound industry knowledge,professional research team,extensive industry and finance network, we also provide strategic consulting、research and PR services to global brands who are entering China or hope to accelerate growth in this most promising market, helping them to fine-tune China strategy and identify best local partners.
About LuxeCO Intelligence
Based in China, LuxeCO Intelligence is a unique platform offering research and consulting services. It continues to present visionary insights on consumer, industrial research and strategic consultation with an extensive global vision from an industrial point of view.
LuxeCO Intelligence offers optimum reference for decision-making for industrial leaders on luxury goods, fashion, beauty and lifestyle through structural commercial information, systematic research on segment, efficient first-hand survey, abundant cases and visionary strategic thinking based on our industrial network under constant construction, data intelligence and industrial know-hows.
Contact:
e-mail: lci@luxe.co
Production editor: Elisa