Fashion + Finance + Technology
Connect Chinese and Western Investors, Designers and Entrepreneurs
"Innovation Drives Fashion Forward"
Luxe.Co New York Fashion Forum is coming soon on Sep 8, 2017. It will be a groundbreaking event connecting leaders of fashion, finance, and technology from China, U.S. and Europe to discuss the future of the industry on the same page!
Over the past four years, Luxe.Co has become the most authentic and influential business media for luxury, fashion and lifestyle industry in China and a pioneering global platform to foster innovations and changes in the industry, connecting and inspiring tens of thousands of entrepreneurs, investors, professionals, talents, opinion leaders and high-end consumers.
We provide latest and well-curated news and in-depth research and analysis on luxury, fashion and lifestyle brand operation, investment and technological innovation. Our app and website constitute a very user-friendly database for comprehensive brand knowledge, fashion finance transactions, and industry research papers. Our signature events: Annual Luxe.Co Fashion Investment Forum & InnoBrand Competition for fashion and lifestyle start-ups have made huge impacts in China over the past three years.
Leveraging on our profound research achievements and powerful industry network, the upcoming Luxe.Co New York Fashion Forum will focus on three main subjects as the cross-border investment, latest fashion-tech, and emerging designer brands. The guests of the Forum, from China, the U.S., and Europe, will include well-known venture capital and private equity investors, investment bankers, independent designers, founders of fashion-tech enterprises, executives from fashion and luxury brands, as well as experts and opinion leaders in creative and design field, etc.
"InnoBrand 2017 Competition @ NYC " will be held after the Forum on the same date. A number of fashion startups based in U.S. will give roadshows and compete for the qualification spots into InnoBrand 2017 Finals in Beijing in November.
In addition, . CO domain will present a special award to Alicia Yu, the Founder & CEO of Luxe.Co – ".CO Startup Ambassador" to honor her outstanding achievements in entrepreneurship and innovation.
Schedule of Luxe.Co New York Fashion Forum
Fri, September 8, 2017
1:00 PM – 6:30 PM CST
100 Park Avenue 6th Floor, Suite 600 
New York, NY 10017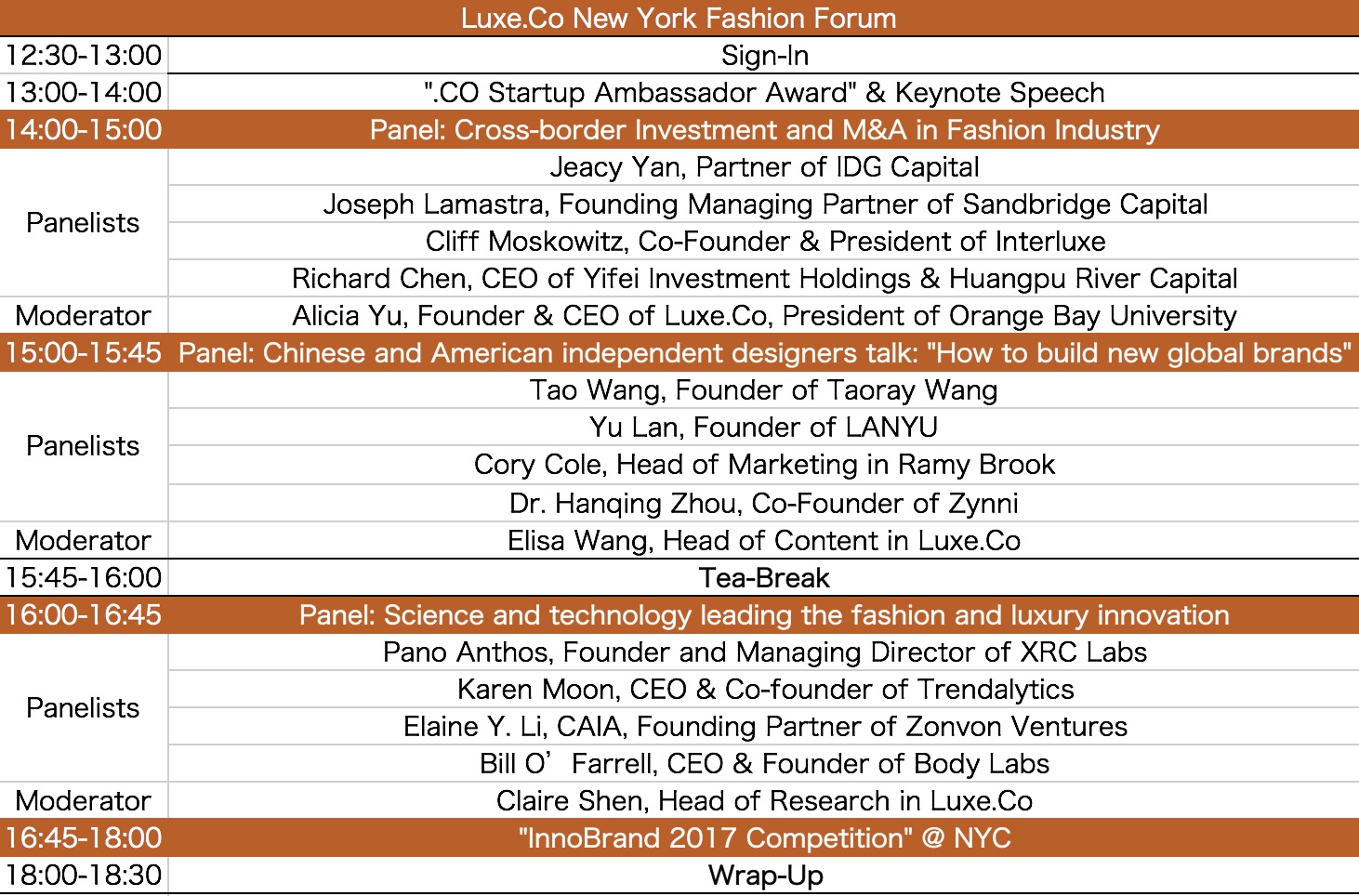 Profiles of Panelists: Science and Technology Leading the Fashion and Luxury Innovation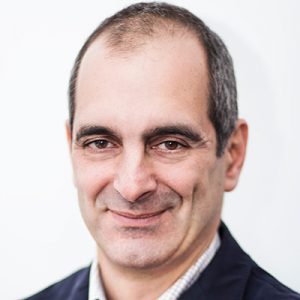 Pano Anthos

Founder & Managing Director of XRC Labs
Pano Anthos is the Founder and Managing Director of XRC Labs, Member of the Board of Directors of Global Partner Acquisition Corporation (GPACU: Nasdaq), Partner of Eaglepoint Advisors and Co-Founder of GatherEducation. Pano graduated from University of Delaware with BA degree in European Intellectual History and Columbia University with SIA in International Business.
XRC Labs is an innovation accelerator and fund for the next generation of disruptors in the retail and consumer goods sectors. With Founding Sponsor organizations Kurt Salmon and the Parsons School of Design at the New School, XRC Labs have created a first of its kind design-centric, innovation ecosystem for the retail and consumer goods industries at the ground zero for the millennial market.
Elaine Y. Li
CAIA, Founding Partner of Zonvon Ventures
Elaine has worked for Morgan Stanley Investment Management, AllianceBernstein, the investment division of The Ford Foundation, and the asset allocation division of Prudential Financial. Elaine has done research on Artificial Intelligence at Tsinghua University, Chinese Academy of Sciences and NEC China. She has been invited as final judge of premiere startup competitions by Cheung Kong Graduate School of Business, Tencent, Carnegie Mellon University, Columbia University, etc. Elaine serves as  board member of portfolio companies and advisor of startups.
Zonvon applies top-notch research on world wide investment opportunities, leverages cutting-edge technologies, allocates capital and dynamically manages. Zonvon Ventures selectively invests in startups with the willingness and ability to be the future champions of specific sectors with significant scale. Typical focuses are FinTech, Artificial Intelligence, Consumption Upgrade, etc..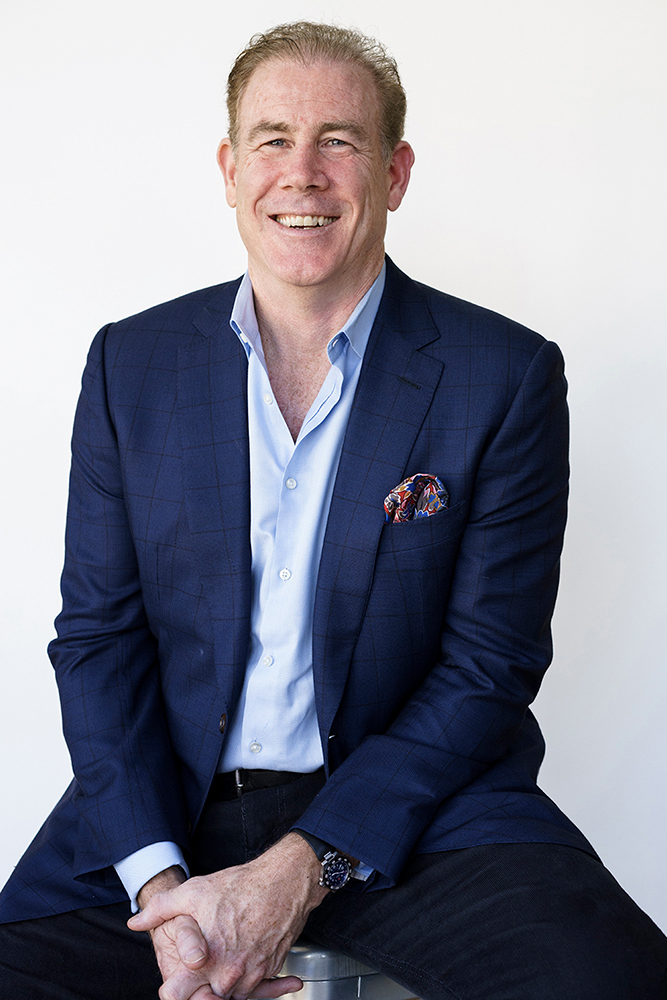 Bill O'Farrell
CEO & Founder of Body Labs
William J. ("Bill") O'Farrell is the CEO and co-founder of Body Labs, a start-up that is tackling the apparel industry's fit problem with the world's most advanced human-aware AI technology for analyzing human body size, shape, and motion. Previously, Bill was co-founder and CEO of such companies as SpeechWorks (NASDAQ:SPWX), acquired by Nuance (NASDAQ:NUAN), OpenAir.com, acquired by Netsuite (NASDAQ:N), and the Company of Science & Art, which created the After Effects product line, acquired by Adobe (NASDAQ:ADBE). Bill has been involved as a founder, CEO, advisor, and consultant at numerous companies in the software, clean-tech, biotech and consumer sectors. He received his undergraduate degree from Brown University and his JD from Harvard Law School. Currently, Bill is also an adjunct professor at Columbia Business School.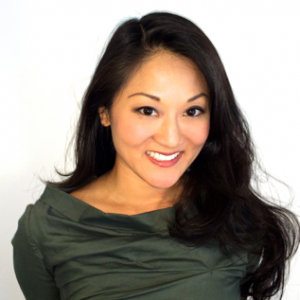 Karen Moon
CEO and Co-founder of Trendalytics
Karen is CEO and Co-founder of Trendalytics, a product intelligence platform that leverages machine learning to marry the art and science of commerce.
Karen has over 15 years of experience in consumer brands, retail and technology. At Goode Partners, she executed the firm's investment in SkullCandy (NASDAQ: SKUL) and worked on the turnaround of a luxury specialty retailer. Previously she worked in Gap Inc.'s Corporate Strategy group, where she assessed acquisition opportunities and new retail concept opportunities. Karen started her career in investment banking at Goldman Sachs & Co. where she executed over $1 billion in technology and media transactions. Karen is a venture partner at Grace Beauty Capital.
Karen has spoken on commerce innovation at NRF, Shoptalk and Strata and has appeared on the Wall Street Journal, WWD, Forbes and the Sourcing Journal. Karen holds an M.B.A. from Harvard Business School and a B.A. from UCLA. Her research at Harvard included studies in multi-channel retailing, luxury diffusion brands and supply chain innovation for emerging brands.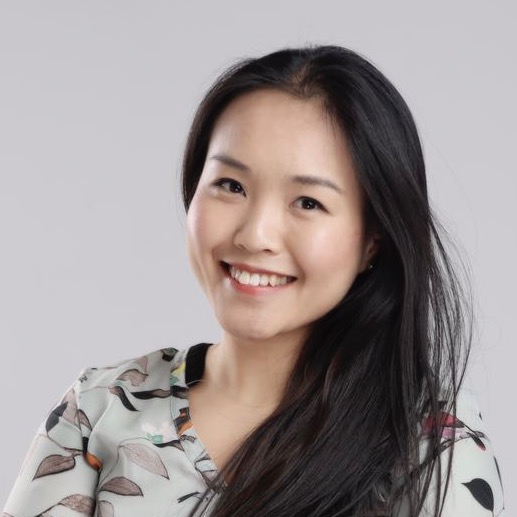 Claire Shen
Head of Research, Luxe.Co
Claire Shen has a diverse background spanning fashion, finance, Internet and media. She is currently Head of Research at Luxe.Co, China's most authentic and influential business media for luxury, fashion and lifestyle. Claire holds CFA certification; her main focus areas are apparel and accessories, travel, health & fitness, beauty, food & drinks.
Claire graduated from Beijing Foreign Studies University and University of Oxford. Prior to her current employment, she has worked in JPMorgan for 4 years and has lived in the UK, Hong Kong and Singapore. Claire is ACE certified personal trainer.
General Guests please click this link to buy ticket ( price : $32.64 , including transaction fees)
Reporters please click this link to apply for the Media Pass

Contact
Email: contact@hualizhi.com
Mobile/WeChat: +86 130 3117 0087